Docomo 2013 Collection SH-02F(PHONE EX) ( Official Software Unlocked )( 486ppi IGZO Full HD Display Long Battery )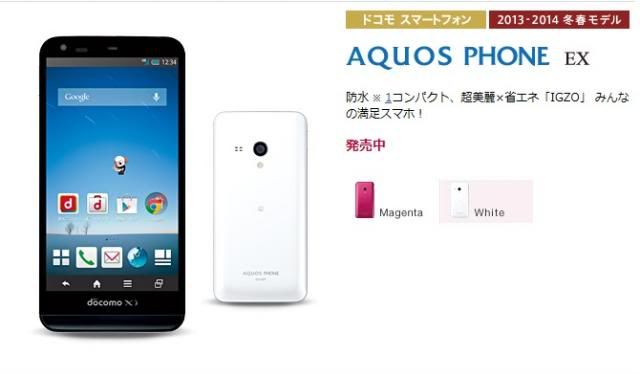 -Specifications-
Model:
SH-02F
( IGZO DISPLAY )
Screen:

4.5"

1080x1920 FULL HD IGZO

Display Screen 486ppi
Camera: 13.1 Meg Pixel CMOS Camera
Front Camera: 2.1 Meg Pixel HD Camera
OS:
Android 4.2.2 JellyBean
Processer:
Snapdragon 800 MSM8974

2.2

GHz Quad Core Proccessor
Memory: 16GB ROM / 2GB RAM
Band: 4G / 3G / GSM , Wifi Enabled
LTE(800/1500/1800/2100MHz) -
Fully Support 4G LTE NOW!
W-CDMA(800/850/2100MHz)
GSM (850/900/1800/1900)
Menu: English / Japanese
Size:

128mm x 63mm x 9.8mm
Weight: 120g
Battery: 2120mAh
SD Memory: Up To 64GB Memory Card
Color: White / Red
BRAND NEW SET!
(

Plug & Play With Any Simcard To Use, No More Hypersim

)
Price: SGD
$xxx
- Full SW unlocked Version (

PRE ORDER!!

)
Package:
-Handset

**Update To Support More LTE Bands Exclusively **


**Just Sms me at

+6582828528

or Email me at
bennyhk4@gmail.com
For Purchase or Enquiries!!
Oversea Customer Also Welcome. Just pop Me a Email!
**

PLEASE

View 99% Complete

Sale Website

For More At :
http://www.sgkeitai.com/
( Sales Still Contact me via Email Pls )
*All Japanese Model Will Come With Service Support For Sending Back Japan If Got Problems Or For Servicing !!No More Worries..
Other Softbank Models
Most Popular:
1)Softbank 007SH ( Flip 3D Display With 16Meg Camera Android )

Best Android Flip Phone
-Softbank 007SH Link
2)Softbank 005SH ( Slider Keyboard 3D Display Android Phone )

CHEAPEST!Qwerty Keyboard
-Softbank 005SH Link
3)Softbank 102SH ( Premium Aquos Smartphone Android 4.0 )
-Softbank 102SH Link
Other Docomo Models
Most Popular:
1)Docomo SH-06E ( Sharp 3D Water Resistance IGZO Screen Long Battery Life Android )

HOT ITEMS! JAN 2014 Best Offer - SUPPORTS WIRELESS CHARGING!


-Docomo SH-06E Link
2)Docomo SO-04E ( Sony Xperia Hatsune Miku Limited Edition Android Phone )

MOST WANTED!
-Docomo SO-04E Miku Link
3)Docomo F-01F ( Fujitsu Water Resistance 1st White Magic Display Android )

4G LTE Useable!


-Docomo F-01F Link
4)Docomo N-02E ONE PIECE Limited Edition ( ONE PIECE SHIP EAR PLUGS & Cradle )
Collectors Items!
-Docomo N-02E ONE PIECE LIMITED EDITION
Popular Korean Model
1)Pantech Vega SECRET NOTE ( IM-A890S )Note3 Killer

BEST MODEL NOW!!
-Pantech Vega Secret Note
2)Pantech Vega N6 ( IM-A860S/K )Note 2 Killer

Top Model !
-Pantech Vega N6
3)LG Optimus G2( F320S/K ) Popular Battery Removable + Memory Slot Series
-LG G2 Korean Version
4)Samsung Galaxy Golden ( E400S/K )

**

Premium Flip Android Phone**
-Samsung Galaxy Golden
5)Lg G Flex ( F340S/K )

Flexible Curve Screen !
-LG G Flex
1)-Pantech Vega Secret Note ( IM-A890S/K )
2)-Pantech SH-01F Zeta 4 IGZO Screen ( Sharp )
3)-Docomo SH-06E Zeta 3 IGZO Screen( Sharp )
4)-Pantech Vega N6 ( IM-A860S/K )
5)-LG G2 Korean Version ( F-320S/K )

Removable Battery + Memory Slot

Video Of SH-02F