Korean Sky Vega 2013 Collection Vega N6 (IM-A860 Note 2 Killer) ( Official Software Unlocked )( Powerful 1080P Full HD Android )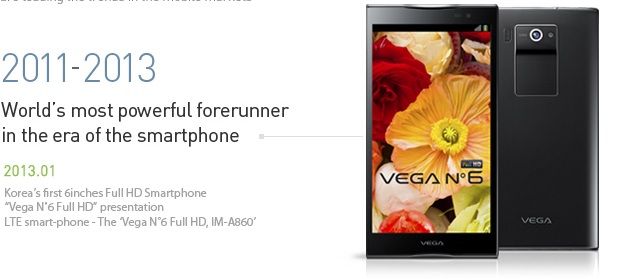 -Specifications-
Model:
Sky Vega N6
( IM-

A860S/A860K/A860L

)
Screen:

5.99" 1080x1920 Full HD

Natural IPS Display Screen
Camera:

13.1 Meg Pixel CMOS

Camera ( High Camera For Android )
Front Camera: 2.1 Meg Pixel HD Camera
OS:
Android 4.4.2 KITKAT
Processer:
Snapdragon Qualcomm S4 Pro APQ8064

1.5GHz Quad Core Proccessor
Memory: 32GB ROM / 2GB RAM
Band: 4G/ 3G / GSM , Wifi Enabled
*
4G
LTE A860S/A860K ( Band 850/1800 ), A860L ( Band 850 )
Data Download Upto 42Mbps
Menu: English / Korean

( Special Option For Chinese Menu Rom )
Size:

139mm x 68mm x 9.9mm
Weight: 209g
Battery: 3140mAh
SD Memory: Up To

2TB

Memory Card
Color: White / Black
BRAND NEW SET!
(

Plug & Play With Any Simcard To Use

)
Price: SGD
$4xx
- Full SW unlocked Version (

IM-A860S/A860K

)
Package:
-Original x2pcs 3140Mah Battery
-Original Twin USB Charger
-Original Datacable
-Original Earpiece
-Desktop Charger
-Screen Protector
**Just Sms me at

+6582828528

or Email me at
bennyhk4@gmail.com
For Purchase or Enquiries!!
Oversea Customer Also Welcome. Just pop Me a Email!
**View My Beta Sale Website For More At :
http://www.sgkeitai.com/
( Sales Still Contact me via Email Pls )
Ready Stock Picture
Video Of Sky Vega N6 A860K
Some Small Reviews On Vega N6 IM-A860
Vega (SKY) N6 (IM-A860S) Mini Review
(Kimchi Mobile)
( Some Info On Pantech If You Never Come Across )
-In 2012 Korea, Pantech's technical prestige will continue to soar in the market for next-generation mobile communications by introducing the LTE one chip and quad-core smartphone with stable quality and more differentiated features
-Pantech has built up stable business structures in overseas markets. In Japan, as the first foreign handset manufacturer, Pantech achieved a two million unit selling record
There Total Of 3 Different Models
A860L, A860S and A860K from 3 different Telco in Korea
Major Different its A860L only supports 4G Band 850.
For A860S & A860K they supports 4G Band 1800.
Specification Of A860L/S/K Same except 4G Band
-Earpiece looks something like the Moster/Beats Earpiece. 1st Look Expensive Stuff with high end Sound ? haha, never test! Maybe others can tell me .
-Twins USB Charger Plug, i can charge Battery and phone together ???
No extra Cable so never test .
-9.9mm Slim Still can accept. But DMB TV Function Wasted We Cannot Use It.
NFC Support , Using Microsim Card, Expandable To 2TB as stated in website OMG!!! Where got 2TB MicroSD Card?
V-Touch Function Of Vega N6 IM-A860S
Its a Special Function Add Behind The Back Of The Phone .
You Can Select Different Kind Of Controlling it.
Instant Capture Of Screen Shot, Internet Browser Scrolling , Answering Phone, Controlling Menu
Motion Sensor Control Settings
Big Icons for easier access To Choose From. What Do You Think It Looks Like???
Sample Picture Of The Simple Mode
But I Still Perfer Normal Mode Haha!! Makes Me Feel Almost The Same As A Samsung UI
A Benchmark Test Using Antutu,
Quite Impressive !!!
Some Camera Functions Pictures
Example Mega Pixels Selection, Different Mode, Effects On Your Pictures,Etc
V Note For Vega N6 IM-A860
Picture Of How V Note Looks Like
Video Playback Sample...
But my photo looks not as good. but Real Time Using its so good with Clear Color.I will try to Record a Video Recording Of The Video Playback Soon..
Updated With Screenshot From Pantech N6 IM-A860 Video Playback
Rooted and self edit to support Chinese Menu, Good News is its On A A860S running A860K version Firmware With Chinese . Haha!!!!
Anyone wans to share technical rooting stuffs can pm me for more,
Rooting is not recommended . Unless you know what you are doing. Cos there will be bricking of phone if its not handle with care.
Battery Review By Me
Estimated Around 1 Day 3Hours Of Usage With Normal 4G Turn On 24Hrs,
Light Surfying ( Emails, Whatsapp, Facebook ), Playing around 45Min Of Game, Making Around 30 to 45 min calls.
*( 3/4 & 4/4 )New Update Estimated Around 9AM To 10.45PM Whole Day Usage It Left 55% At The Point Of Time. So Im Suprise On The Battery Life.
Testing On Game Play